Hi, I'm Jennifer
Hi, my name is Jennifer, nice to meet you! I work with motivated souls just like yours that want to fear and anxiety and embrace WHO they are. My Purpose Title is Destiny Activator. Regardless of my job, job title, or employer, the core of WHO I am, is one who stimulates and sets in motion purpose and calling in individuals. Armed with over 20 years of experience working in higher education at both private and public institutions, I find myself at home in Career Development. Over the last decade I developed a 5P Process to help individuals like yourself find meaningful and engaged careers. My 5P's include Passion, Purpose, Personality, Proficiencies, and Profit Centers. Through this process individuals (and even employers) pull out their potential, explore the possibilities, find intentional ways to practice and prepare, develop professionalism, and experience peace as they figure out their WHO before their DO©! (I really likes the letter P!) Some other fun things about me are I am an ENFJ. My StrengthsFinder Top 5 include: Communication, Empathy, Restorative, Harmony, and Connectedness. Do you need direction? No worries! I have have a word for you: You were created on Purpose and for a Purpose. My role is to facilitate an experience using tools and assessments to empower and equip you for that which you were designed for. My business is guided by this: "
As the rain and the snow
come down from heaven,
and do not return to it
without watering the earth
and making it bud and flourish,
so that it yields seed for the sower and bread for the eater,
11 so is my word that goes out from my mouth:
It will not return to me empty,
but will accomplish what I desire
and achieve the purpose for which I sent it.
12 You will go out in joy
and be led forth in peace;
the mountains and hills
will burst into song before you,
and all the trees of the field
will clap their hands." ~ Isaiah 55: 10, 11
Looking for real change in you life? Want to build a better future? Find your WHO before your DO now!
Interesting facts about Jennifer include she worked for two professional golfers (both have Majors, and one was part of The Big Three), served as a paid speaker for a company owned by Monster.com, was an invited speaker at a Lance Wallnau Dream Trip, and has spoken internationally (Mexico and Haiti, with the rest of the globe to go). I am married to one spicy mix of a husband, Nicholas (50/50 Puerto Rican and Italian). He still makes her laugh, and still sings to her after 14 years of marriage. "I call my husband an entrepreneurian; he is part entrepreneur and part humanitarian." When he isn't travelling to Haiti, Jamaica, or Puerto Rico to provide humanitarian aid and hope, you will find him fishing, building something, or snuggling Jennifer. They reside in South Florida, and are proud fur parents of their rescue dog, Basha (full disclosure, her full name is Dolce G'Basha).
---
Professional Bio
Jennifer currently serves as the Destiny Activator / Assistant Director of Career Development at Palm Beach Atlantic University, while managing her private coaching practice. Within the first year of establishing a Career Peer (CP) program at PBA, she increased office traffic by over 300%, and 25% in its second year. The training manual she and co-presenter Bailey Eldridge developed for the CP's was requested on the NACE Community by 106 individuals representing over 100 schools because of its WHO before DO© philosophical approach. Jennifer is on the Board of Florida ACE, won the best rated workshop at the Florida ACE 2017 annual conference, was selected to give the closing keynote at the state drive-in event, and has launched hundreds of students into successful and engage careers; below are some examples: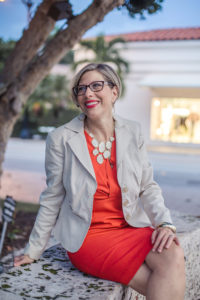 Tyler went from charging $250 for his balancing act at half time show to contracts garnering $4,500 at major US universities. He originally came in for a performance resume so he could audition for the Blue Man Group. His business now has him performing at minor league baseball games and for top 10 schools.
Molly, the first CP hired by Jennifer, now works for the Chief of Staff at the White House.
Carlie was frustrated trying to write her graduate school essay for George Washington University, but could picture herself working in the J. Edgar Hoover building for the FBI. After working with Jennifer and tapping into her passion for the field of forensic science, she wrote an essay that resulted in her acceptance into a top tier program.
She is published in a NASPA Journal and
Player
magazine. She earned her M.Ed. at the University of Toledo, after reading and embracing
What Color is Your Parachute
, and her B.S. in Journalism/Public Relations at Bowling Green State University. She was certified by Gallup in 2003 in StrengthsFinder, and is a certified practitioner in the Strong Interest Inventory and Myers-Briggs Type IndicatorÒ.